Truck and Fleet Wash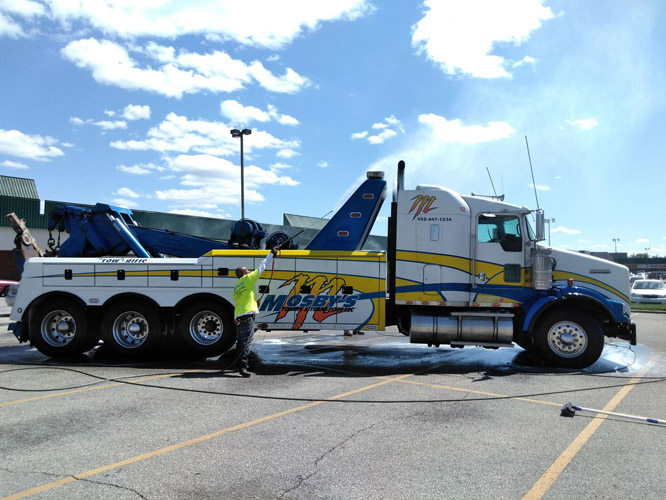 Rigs are constantly exposed to road grime, salt, and dirt, which can cause premature wear to their parts. Regular semi-truck washes are an important part of fleet maintenance and provide a number of surprising benefits. Here are five reasons why it's in your company best interest to get your semi-truck cleaned frequently.
Whether you need a semi-truck wash, detailing, or a spot-free rinse, you can trust the experts at Longevity Power Wash. We offer comprehensive cleaning for all vehicles, ranging from tractor trailers to buses. Our wash packages include mud removal, a high-pressure rinse, and also clean out of trailers. We also offer a Recovery System process which will allow us to discard waste water off sight if needed.
Improve Exterior Finish: Keeping your truck clean at all times will make dents or scratches more visible. Thus, you will be able to see them and have them repaired quicker.

Protect the Paint: Vehicle paint goes beyond cosmetic purposes. It keeps the elements from corroding the truck's metal parts. Giving your truck a good wash on a regular basis will help you avoid rust formation.

Boost Brand Image: Your trucks represent your company to the public, and a clean vehicle makes a more positive impression than a dirty one. Getting regular semi-truck washes conveys your commitment to the maintenance of your fleet and demonstrates your dependability to consumers.

Increase Driver Safety: Clean trucks reflect more light, which can improve road visibility and ensure your drivers see obstacles in their path. Additionally, DOT officials are more likely to pull over dirty trucks for further inspection. It gives them the impression the driver doesn't care about vehicle upkeep and the truck may not be safe.

Better Resale Value: There may come a time when you decide to upgrade your fleet. Regular truck washing will ensure you have decent-looking vehicles to sell. Well-cared-for trucks will sell for more than old, rusty ones.